This is a review of the Ride Fuse snowboard boot. I bought this boot in 2023 to hopefully be the solution to my old Thirtytwo TM-3 boots.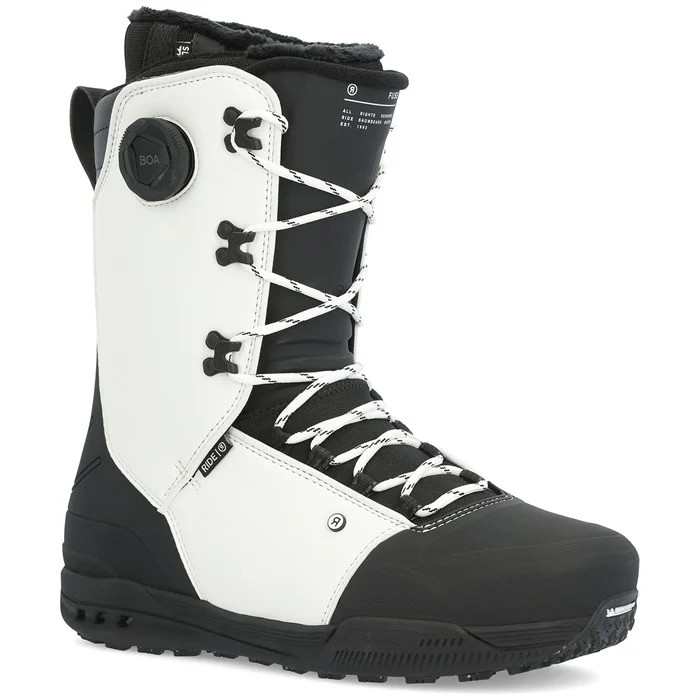 I first got the 8.5 Ride Fuse boot which was the same size as my previous boots, but after wearing it around my work I figured it was going to pack out and get more spacious. It definetly felt and looked bigger than the same size in my Thirtytwo boots.

So I looked a little longer and eventually found a size 8 and got them. I didn't really like the color way much so I ordered some other blue laces that thought would go better than the white ones that came with it.
Ride Fuse boots are pretty stiff (8-10) out of the box for a freestyle boot.
They felt awkward and so I would wear them for an hour or two and then go back to my old 32 boots.
I think the Ride Fuse boots could get better, but as they were breaking in I found my self trying to customize them more by getting additional insoles to take up space. My feet are weird and my ankles are skinny which leads to some boot fitting issues.
With the Ride Fuse I noticed my foot was starting to move around in the boot so I got the insoles then they kinda still moved and there were pressure points on the widest side of my foot where I developed bunions near my pinky toe probably from wearing my TM-3's daily working 8-10 hours in the park.
So I already went throughlike two seasons of ongoing boot modifications with my TM-3's so I started to think I would sell them on ebay.

What I liked about the Ride Fuse and it's features
Pros:
It's got an articulating cuff so when you flex the boot it doesn't distort.
It's mostly lace and has a boa for the tongue and inner liner.
The inner liner is different as it doesn't have the traditional central tongue. It kinda wraps and is called the Mobile Trap Wrap Liner .
The rubber sole is pretty good for traction – Michelin® Hybrid Fiberlite Sole. Sometimes I thought the gripped my board better 1 footing than the TM-3's but then others I thought maybe the TM-3's got better traction walking in snow. But still good.
I like the exterior tongue on it – called Slime tongue which is supposed to provide dampening.
It's a low volume boot. It has much less volume especially in the heel area of the boot compared to the TM-3.
It's a fairly lightweight boot. It felt about half the weight as my TM-3's.
Cons:
It's not as heavy duty as my TM-3's so I wondered how well they will hold up after a 100 day season or if they would get there.
They are part BOA. Which is fine for some but they give me anxiety that they will break. I mean the cables are so thin.
The liners are kinda lightweight and wimpy, well probably pretty typical of snowboard boot liners although they have the wrap instead of traditional tongue which I liked.
I wonder if these would give cold toes in cold weather. I had a coworker with Ride Insano boots who was always going in to warm up his toes during the season.
I tried on a lot of boots before buying these online. And I actually never tried the Fuse on in a shop before ordering online. But I tried the K2 Maysis, other K2 boots, the Ride Lasso, Ride Lasso Pro, Ride Deadbolt, some Northwave boots, Deeluxe boots, Team ID and others, Burton Tourist, Salomon Echo, Salomon Launch, Salomon Dialogue, Rome boots (no articulating cuff) and more.
None of them really stood out however I tended to think the ski company boots (surprisingly) like Ride, K2 and Salomon fit better.
I read about the Fuse and heard good reviews on them and I remember a rep for Mervin boards saying to try on a lot of boots and find a company that has a mold that fits your foot better.
So it seemed like all the ski companies were fitting better and I can tell you to at least size down a half size for these boots and maybe all of Ride boots and for K2 boots too as they are made by the same company. In my experience all the K2 and Ride boots ran about a half size large.
I spent about 10 hours in the Ride Fuse boots and will probably sell them as they loosened up and I even wonder what a size 7.5 would feel like after the pack out or if I could even get into them. I mean in Thirtytwo boots my toes were crammed in the front and hurting but there was empty space around the rest of the foot that was hard to keep tight.
Measure with the Brannock device if you haven't.
That's a good starting point. I got one foot that is a 27mm (size 9) and another a 26.5 (size 8.5) and was told my volume is a 7.5 (skinny lower ankle heal area) so it's complex fitting a boot.
I mean my toe space was good with the Fuse but they were loosening up and getting more spacious and my foot was moving around as mentioned before.
Overall review
Overall I met other people that were pretty happy with this boot and on their 2nd or 3rd pair. So if it works for you it works. Definitely size down a half-size or go to a shop to try some on or buy multiple pairs online.
It's a lightweight and low volume boot which is a plus. They are pretty stiff feeling which can take some getting used to. They are not a high-end boot but maybe med-high range and still pretty stiff. Like most boots do they will packout and loosen up with time.
You probably want to get a pair sooner than later because your size can quickly disappear. I spent a good month or two looking for these in my size online.
Learn more about the Ride Fuse snowboard boot on Evo.com. Or check out the Ride Fuse boots on Amazon.
Related: