Is an online TEFL course enough? Based on my experience teaching English in Asia I'd say that it is usually enough to get a job when required.
But…
What do you mean by enough? Do you mean can you get a job with an online TEFL? Or do you mean is it good enough for the training?
In my experience teaching in Asia: China, Korea, and Taiwan I would say that most schools there will accept online TEFL courses, however it does depend on the school.
The schools that don't accept online courses are often more prestigious or in places like Europe or the middle east. Most first time teachers do not get into these schools anyways unless they have experience.
So despite what you might have heard having an in-class course is not going to make a big or any difference in your chances of getting a job or making more money. Having TEFL experience matters more.
The course is just a start.
Are online TEFL courses any good? Well, that is going to depend on the course as all online courses are not created equally. What you take away from a course or what you learn is going to depend on the course and you.
Is an online TEFL course for you?
Are you a self-directed learner?
Are you self disciplined?
Are you independent or introverted?
Do you want to control the pace?
Are you planning to teach abroad for just 1-2 years?
If your answers are mostly yes to those questions then an online TEFL course may be better for you compared to an onsite TEFL course.
Now let's talk about the training.
Here's why most online TEFL courses are not good enough
How do online TEFL courses work? Well, it depends on the course, but for a lower quality one you read passages and then take quizzes or answer multiple choice questions. Now you can learn by reading, but if you have no visual element to it you're going to have an awfully hard time remembering what you are studying.
Studies show that people tend to only read 20-28% of a page. So if you only read that much then how much do you think you will remember?
If you don't remember what you studied in a course then how well do you think you will teach?
You need a visual to learn how to teach. For me the best way to learn how to teach was by watching other teachers. Now you can do that in a classroom or you can do it online with video.
A higher quality course is going to use a lot of instructional videos because studies show that people learn better with video compared to text.
It's also more interesting.
You may have read that online courses are useless or worthless, but the people who say those things typically fall into a few groups:
Traditional learners
They took a cheap/low quality Groupon TEFL course
They never took an online course and are just repeating what others say
If you read r/tefl on Reddit you will soon find out that many people there are pro-CELTA. CELTA is supposed to be a good course, but it's not for everyone especially those who are not in it for the long run, don't teach adults, don't want to cram, or pay $2000.
On the other end of the spectrum on Reddit are those that recommend taking the cheapest online TEFL you can get so you can "check the box".
These people are only focused on appearances and getting the job, but getting a job is just the beginning.
A cheap course is cheap for a reason. You tend to get what you pay for. As mentioned above you probably won't get instructional videos, feedback or a quality course.
Going with a low quality/cheap course will likely continue the circle of people saying online courses are worthless. So yeah they are worthless if you take the wrong course just to get a job ("check the box") and you don't learn.
I think the biggest factor for a successful experience with an online course is to have a visual. You should watch other teachers teach the same or similar students as you are going to teach. If you teach kids then you need to watch other teachers teach kids.
If you teach adults then some stuff will transfer to kids, but not all and vice versa.
Here is an advanced course that is especially focused on teaching kids (5-14) in Asia. Or a quick online TEFL course to check the box for better or worse.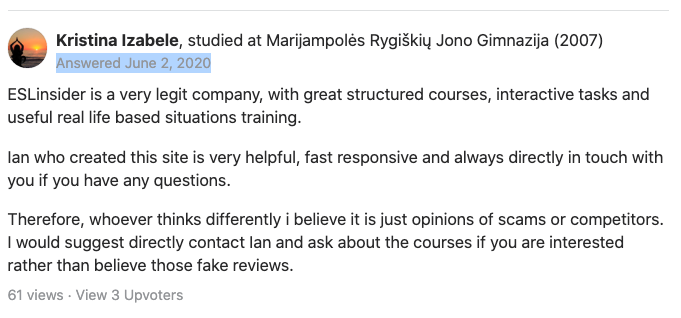 More reviews on ESLinsider and here.
Related: